McIntosh home theater speakers represent some of the most coveted components in home audio technology.
McIntosh Labs holds dozens of patents for its celebrated line of home audio and theater speakers and amplifiers. These products look almost as good as they sound, providing a rich and detailed audio experience.
If you enjoy audiophile trivia, you might already know that McIntosh amps were responsible for pounding out the sounds at the now-legendary Woodstock music festival in 1969.
AVI Systems in Draper, Utah is proud to offer McIntosh speakers to our customers, as a part of our diverse line of home theatre systems and components.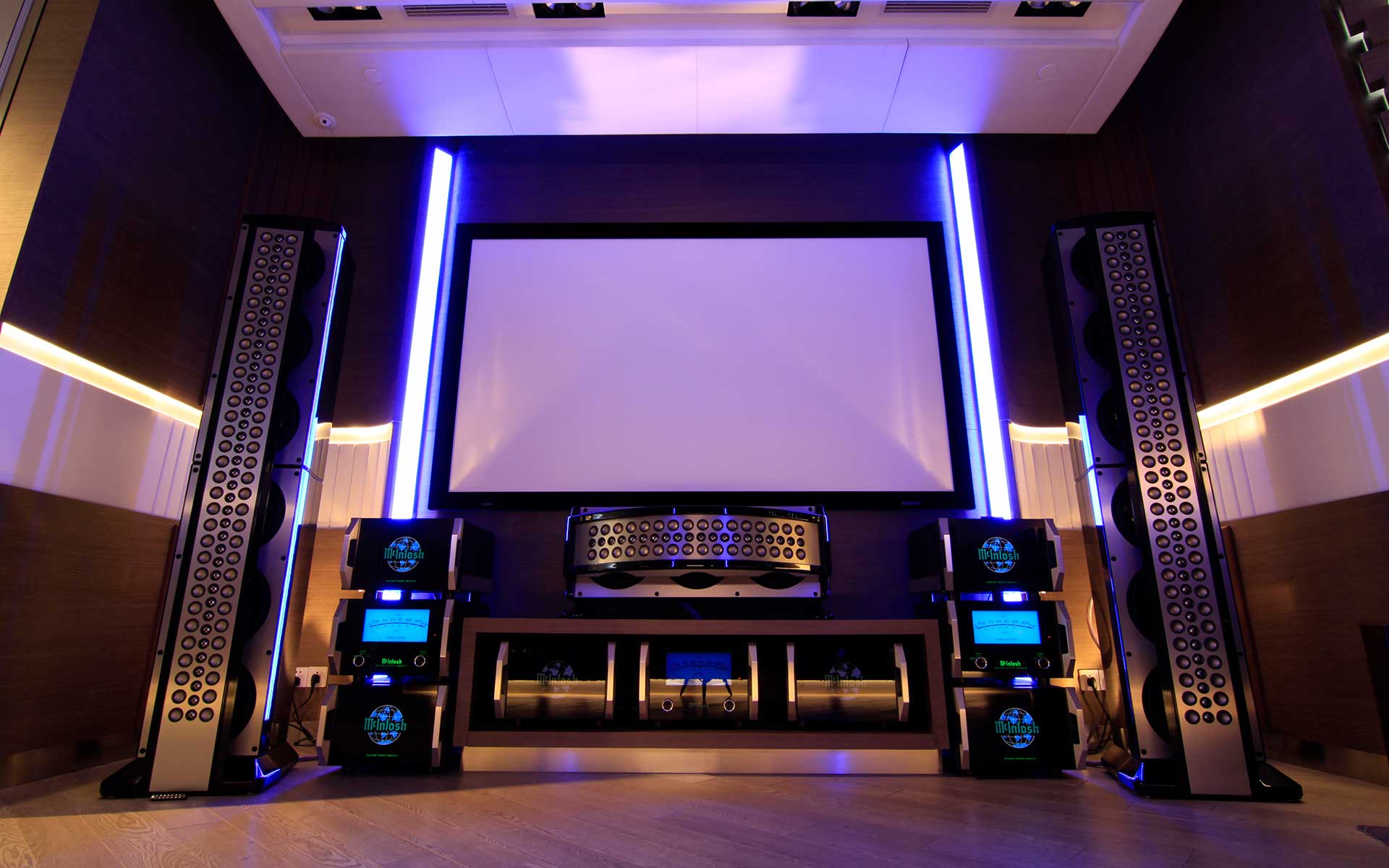 The Power of McIntosh Speakers
To produce realistic, high-quality sound, home audio speakers must pack a powerful punch. McIntosh produces some of the most powerful home speakers made today.
This level of power requires sophisticated technology, which the hallmark of all McIntosh Labs components. It is this level of power that allows speakers to realistically reproduce surround sound for movies, TV, and gaming.
Although these components have the power to faithfully deliver quality sound at a high volume, they are just as capable at more modest levels of volume.
Home Stereo Speakers That Look as Good as They Sound
The other quality that places McIntosh speakers in such high demand is their aesthetic value. In fact, the renowned electronics designer and manufacturer has always placed a high emphasis on design as well as high-fidelity sound.
With a sleek, retro vibe that harks back to the home audio component heydays of the 1970s, bookshelf and floor speakers bring an elevated level of sophistication to your home theater's appearance.
No matter which speaker models you select for your home audio or theater system, you're going to love the way your system looks.
Flexible Function & Performance from McIntosh Home Theater Speakers
Despite being deeply rooted in the grand tradition of high-end audio components, McIntosh Labs has invested heavily in its cutting-edge technology.
You can choose from a wide variety of floor-standing models, bookshelf speakers, and even wireless McIntosh speakers. We also have on-wall, in-wall and ceiling mounted options, to complete your setup.
When you want to incorporate the prestige of handcrafted audio components into your sound system, McIntosh is the name you're looking for. At AVI Systems, we assist clients in the Salt Lake City area and throughout northern Utah with all their home theatre, home audio, and home automation needs. We design and install customized systems that are as reliable as they are affordable.
Contact us today request your personal home automation, audio or theater consultation, or to learn more about how we can create the perfect sound experience for you with McIntosh home theater speakers.